Golden Features Announces North American Headline Sisyphus Tour
Golden Features Announces North American Headline Sisyphus Tour

Including Stops In Los Angeles, San Francisco, Brooklyn, & More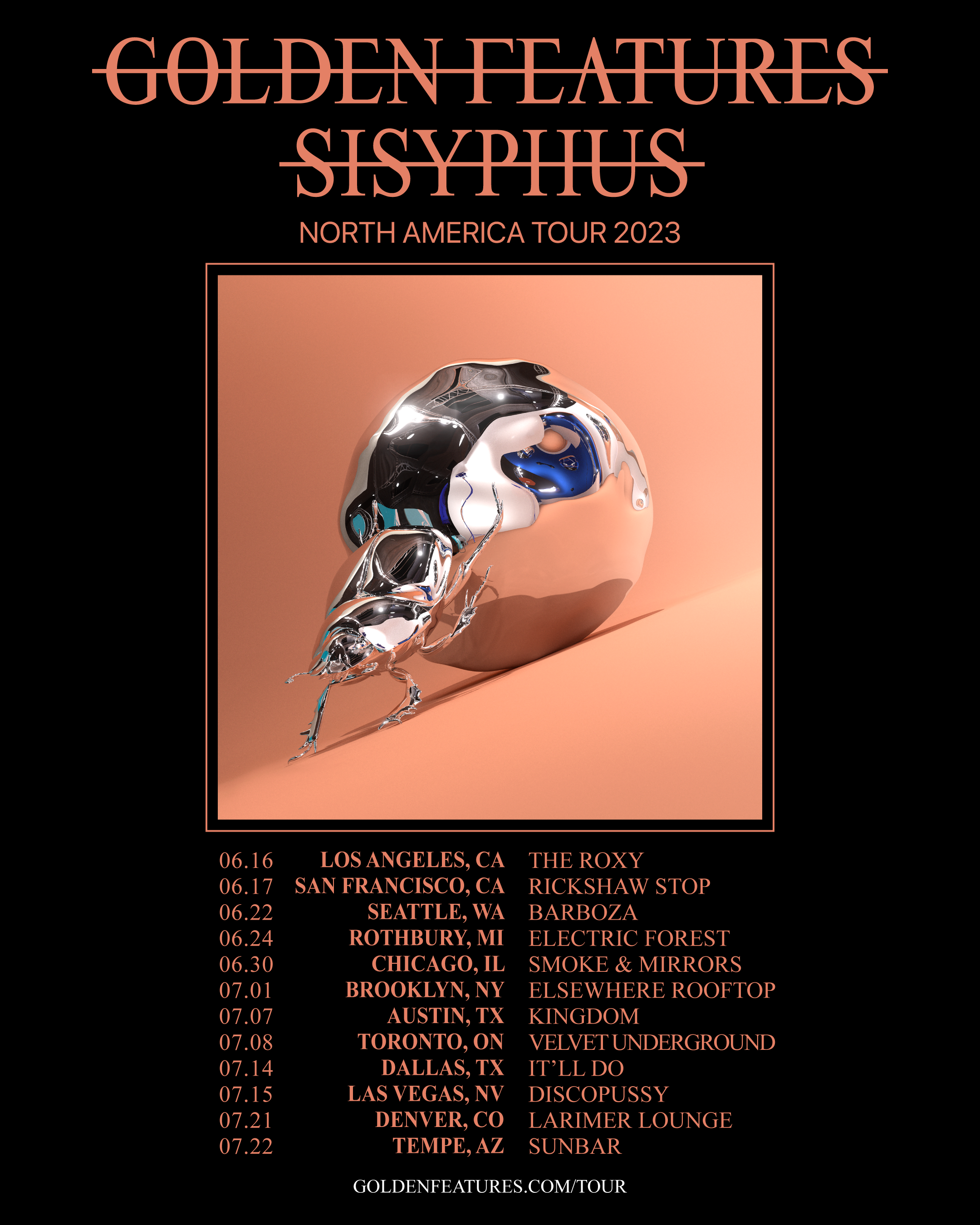 Pre-Sale Begins Wednesday, May 10th at 10 AM PT
On-Sale to Follow on Friday, May 12th at 10 AM PT

Register for the Pre-Sale here: 
https://www.goldenfeatures.com/tour

High res assets and download available here.

Today, acclaimed Australian electronic producer/DJ Golden Features announces his upcoming North American headline Sisyphus Tour. 

Kicking off on June 16th, the Sisyphus Tour will see Golden Features on a 12-date run with stops at renowned clubs in Los Angeles, San Francisco, Brooklyn, Toronto, Las Vegas, and more. Daunting the mask that bears his namesake, Golden Features will fuel the Berlin energy that has inspired his recent releases in his upcoming live set. The tour will also include a festival appearance at Electric Forest, where he'll join fellow Foreign Family Collective members like ODESZA, Phantoms, ford., and MEMBA.

2022 saw Golden Features make his grand return both on and off stage. Continuing to test the boundaries of his imaginative and avant-garde sound, he released a trio of innovative singles, 'Touch', 'Vigil', and 'Endit' via Foreign Family Collective. Supporting ODESZA's The Last Goodbye Tour, Golden Features headlined official afterparties across North America, selling out celebrated venues like San Francisco's 1015 Folsom, Chicago's Sound Bar, and Brooklyn's Elsewhere, which hosted the debut BRONSON performance. 

Golden Features invites fans to experience his unique live performance and grab tickets to his upcoming Sisyphus Tour here. 
 
Sisyphus Tour Dates
June 16 - The Roxy - Los Angeles, CA
June 17 - Rickshaw Stop - San Francisco, CA
June 22 - Barboza - Seattle, WA
June 24 - Electric Forest - Rothbury, MI
June 30 - Smoke & Mirrors - Chicago, IL
July 1 - Elsewhere Rooftop - Brooklyn, NY
July 7 - Kingdom - Austin, TX
July 8 - Velvet Underground - Toronto, ON
July 14 - It'll Do - Dallas, TX
July 15 - Discopussy - Las Vegas, NV
July 21 - Larimer Lounge - Denver, CO
July 22 - Sunbar - Tempe, AZ


Connect with Golden Features 
Website l Facebook l Twitter l Instagram l SoundCloud l Spotify l YouTube l TikTok

  
Leave a comment